St. James' Episcopal Church
Goshen, Indiana
Our 158th Year
---
Saturday, April 21, 2007
Saint Anselm of Canterbury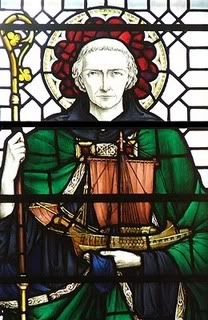 St. Anselm of Canterbury
Image © 2007 Nash Ford Publishing.Used by Permission.
April 21st marks the feast of
Saint Anselm of Canterbury
. Anselm was born in Italy about the year 1033. He was a philosopher and theologian,
who held the office of Archbishop of Canterbury from 1093 to 1109. He died on April 21, 1109.
Lectionary for Today:
Feast of St. Anselm
Learn more about the life of
St. Anselm of Canterbury
:
Bio from Early Britsh Kingdoms:
St. Anselm
Wikipedia entry:
St. Anselm
Stanford University Website Bio:
St. Anselm
Subscribe to Posts [Atom]