St. James' Episcopal Church
Goshen, Indiana
Our 158th Year
---
Thursday, April 26, 2007
Good Neighbors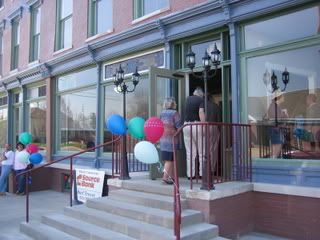 Phyllis is seen entering the front door of "The Hattle".
St. James isn't the only building in the neighborhood that has been getting some work done recently. The former Lincoln Hotel, now renamed "The Hattle", which is located just across the alley immediately west of the parish property, had been in an almost constant state of decline for years. Then, in the fall of 2006, the community redevelopment organization known as "LaCasa" purchased the property and began a massive rehabilitation project. The former hotel was transformed into apartments, and the building completely renovated, while still preserving as much of the original antique beauty of the structure as possible.
That project is now complete and last Sunday, April the 22nd, LaCasa held a community open house at The Hattle. Several parishioners from St. James made their way over to view the building following the 10:00 AM service. Everyone who went agreed that the transformation is almost unbelievable.
We would like to say thank you to everyone at LaCasa for making such an improvement to the neighborhood. The work that you do, enabling people to find quality housing and improve the quality of their lives, is truly a blessing for our community.
To find out more about what LaCasa does for our community you can visit their website here:
LaCasa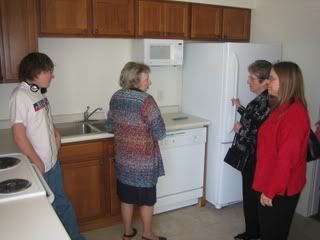 Clayton, Phyllis, Katie, and Lisa checking out one of the apartments at The Hattle.
Subscribe to Posts [Atom]