St. James' Episcopal Church
Goshen, Indiana
Our 158th Year
---
Friday, June 29, 2007
Meet Father Hadley
Like many small Episcopal Parishes, St. James cannot support a full time priest. So we depend on supply clergy from the diocese. We have been very fortunate in this regard. Many very dedicated members of the clergy have worked very hard to see that our spiritual needs are being met.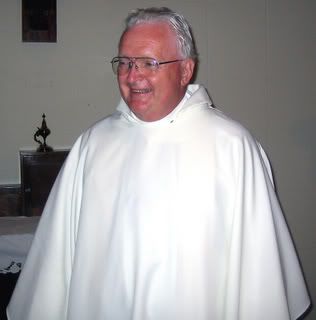 For the second summer in a row, that minister has been Father Arthur Hadley. He is also the author of all of the wonderful sermons you've been reading here lately.
Arthur Hadley was ordained to the priesthood on St. Barnabas Day, 1963, in Indianapolis, Indiana.
After serving in the Diocese of Indianapolis, Fr. Hadley went on to serve as the Bishop's Deputy in the Diocese of Missouri, Canon to the Ordinary in the Diocese of Northwest Pennsylvania, and later served in the Diocese of Southern Ohio.
Fr. Hadley and his wife, Jane, have two sons, both of whom are now grown up and out on their own. The Hadleys make their winter residence in McAllen, Texas. During those months Father Hadley serves the Diocese of West Texas.
But during the summer months they make their home near Howe, Indiana. So St. James is blessed to have the ministry of Fr. Hadley from around May until, as Father puts it, "It's getting cold here and the temperature in McAllen drops below 100". Usually sometime in October.
We are indeed thankful for the ministry of Father Hadley. If you enjoy reading his sermons on the website, you ought to try stopping by the church some Sunday morning and hearing one in person.
Subscribe to Posts [Atom]