St. James' Episcopal Church
Goshen, Indiana
Our 158th Year
---
Thursday, October 25, 2007
It's Cheeseball Time!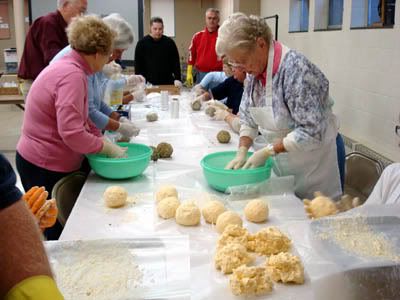 Cheeseball production is once again in full swing at St. James'.
The cheeseball committee estimates that we have been making the famous St. James' cheeseballs for at least 45 years now. St. James' cheeseballs are perfect for holiday entertaining, or any time of the year. They also make a great gift. They can be frozen, thawed, and frozen again. So no worries about holiday travel.
This year we will be making approximately 1300 of the delicious treats. We hope to have enough to last through the holidays, but they always go quickly so you'd better get yours now.
Due to rising costs of the ingredients and supplies over the past few years, it is now necessary to raise the price from $5.00 each to $6.00 each. This is the first price increase in many years, and we are sorry to have to do so.
Cheeseballs are available from most of the church members, or by calling the office at (574) 533-4984. If no one is there when you call, please leave a message and we will get back to you about the best time to pick some up.
Our church office is staffed by volunteers, and there isn't always someone there. So if you decide to stop by, please ring the doorbell. If no one answers, try calling the office at the number listed above or Cecelia Cushing at (574) 533-4359 to arrange for pick up.
Subscribe to Posts [Atom]