St. James' Episcopal Church
Goshen, Indiana
Our 158th Year
---
Tuesday, December 23, 2008
It Was God's Plan From The Beginning
This Christmastide the parish family of St. James' Episcopal Church feels that God has answered their prayers, in the form of a devoted priest and caring pastor.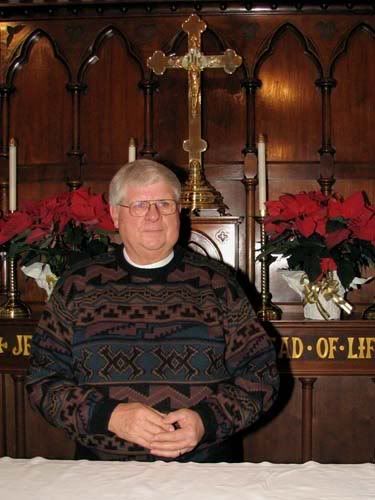 Fr. Larry Biller, St. James Episcopal Church, Goshen, IN.
Dave Zollinger photo.
Father Larry Biller began his ministry at St. James' on December 7, 2008 as Priest-in-Charge. Fr. Biller, who is also Priest-in-Charge at All Saints' Episcopal Church at Lake Wawasee says, "It was God's plan from the beginning".
Fr. Biller was ordained priest in the Diocese of Northern Indiana two years ago, after having served as Senior Warden and Deacon at All Saints' for 12 years. All Saints' had been without a priest for some time. After Bishop Edward S. Little suggested to Larry that he consider seeking ordination, he began studying for the priesthood. Five years later he was ordained and became pastor of All Saints'.
Fr. Larry Biller was born and raised in Goshen, Indiana, and was baptized and confirmed at St. James'. He and his wife, Irene, were married at St. James'. Their children, Mike, Don, and Kristan, and their grandson, Tyler, were all baptized at St. James'.
During the last few years St. James' has been without a full time priest, and has relied on "supply" clergy for their Sunday services. Earlier this year, the St. James' congregation held it's annual parish picnic at All Saints', and at that time Fr. Biller says he, "felt God telling me to do something" but he didn't know what it was. Then in October St. James' parish secretary Katie Craig found herself sitting beside Fr. Biller at a Diocesan Convention. She told him about the situation at St. James' and asked if he would be interested in helping out. When Katie was talking to him, Fr. Biller says,"a light came on" and he said "yes, I think I can help you out".
But some things still had to be cleared first. The bishop had to give his approval, both churches would have to change their times of Sunday services, and most importantly, Fr. Biller had to have Irene's approval!
Fr. Biller went home from convention and said to Irene "I have something to talk to you about". Instead of waiting for him to tell her what it was, Irene simply said, "You are going to help St. James".
Service times at both churches were changed to allow travel between Syracuse and Goshen. The service at All Saints' is now at 9:15 a.m. and Goshen's service is at 11:00 a.m.
During the week Fr. Biller is at St. James on Tuesday mornings and all day on Thursdays to be available for pastoral care and to attend to other duties. He is also available at any time for home visits, for sickness and hospital visits, or to help whenever needed.
You can reach the St. James Parish office at 574-533-4984.
"God has placed me here to serve, not to be served", says Fr. Biller. He brings love and compassion for the Lord and His people at St. James'.
Subscribe to Posts [Atom]