St. James' Episcopal Church
Goshen, Indiana
Our 158th Year
---
Saturday, August 15, 2009
St. James Celebrates 150 Years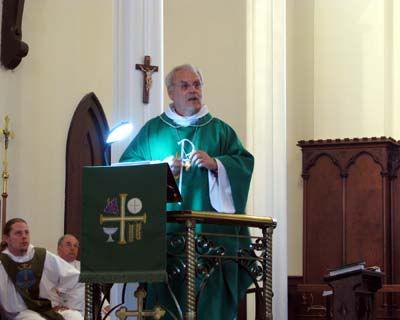 St. James' was happy to welcome Bishop Gray as Celebrant for the service.

On Sunday September the 9th, 2009, St. James culminated its 150th Anniversary Celebration weekend with a re-dedication mass. The Rt. Rev. Francis Gray, former Bishop of the Diocese of Northern Indiana, celebrated the Holy Eucharist, assisted by the Rev. Larry Biller, Priest-In-Charge at St. James.
To see a slideshow with many other images from St. James 150th Anniversary celebration click here:
150th Sunday Slideshow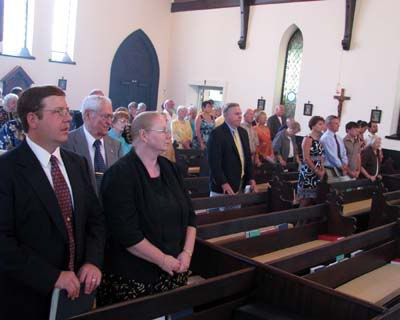 The congregation included many guests, and old friends of the parish too.

There was a large congregation on hand to hear Bishop Gray deliver a fine sermon, as many old friends of the parish and guests attended the special service.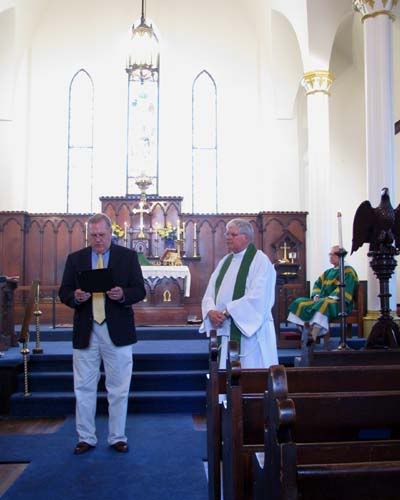 Goshen Mayor Allen Kauffman issued a proclamation of St. James Day in the Maple City.

Guests at the service included Goshen Mayor Allen Kauffman who presented a proclamation declaring September 9, 2009, to be "St. James Episcopal Church Day" in Goshen, Indiana. The proclamation was beautifully written and the Mayor did a wonderful job of delivering it. Everyone at St. James appreciated Mayor Kauffman taking the time to be a part of this special day.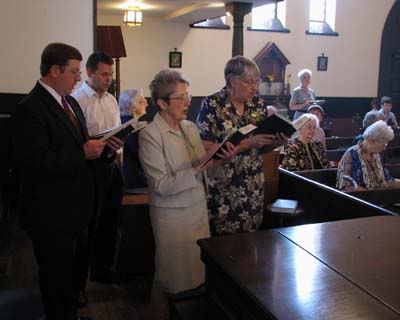 The St. James Singers sounded woderful, as usual.
As one would expect at St. James, the meal after the service was something too. Upper Latta Hall played host to a very nice party for quite awhile in the afternoon.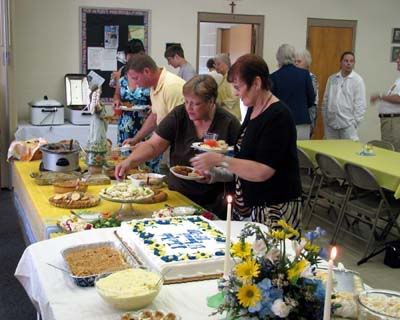 The parish put on a fine meal in Upper Latta Hall after the service.

Many people worked very hard to make St. James' 150th Anniversary celebration a success. This kind of parish life and dedication bodes well for a second 150 years at St. James.
Subscribe to Posts [Atom]